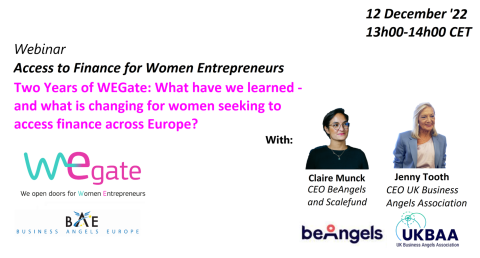 On Monday, 12 December, 13h00 CET, tune into our final WEGate Webinar with Claire Munck and Jenny Tooth.
We are rounding off the WEGate access to finance series with two leading women in the field, exploring together the lessons learned from two years of the WEGate programme.
Jenny and Claire will capture the critical tips for women entrepreneurs to raise finance, whether from banking, crowdfunding, venture capital or angel investing.
Furthermore, they will feature the new thematic paper Business Angels Europe has prepared, informing all the main stakeholders in the ecosystem on how to boost women investors, women backing women, and access to finance for women entrepreneurs.
Jenny Tooth is the CEO of the UK Business Angels Association, which has superseded the British Business Angels Association, the trade body for angel and early-stage investing. Jenny has been providing strategic support to BBAA since its establishment in 2004, supporting policy and interfacing with Government, and developing the trade body's major annual events. She has operated a wide range of investment readiness programmes, including projects supported by national and EU funding.
Claire Munck has just been selected as "one of the top personalities to follow in Belgium in 2021" by the Financial Newspaper l'Echo. Claire is the CEO of BeAngels, one of Europe's most active business angel networks. Since its creation, the network has brought together more than 50 million euros of private capital to support more than 300 companies.