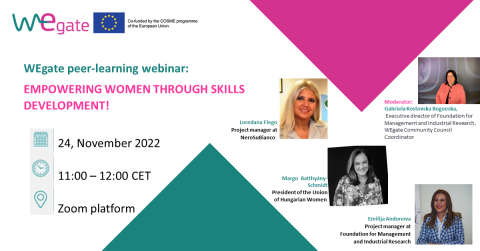 Women's economic empowerment is a "transformational process" achieved through, among other things, skills training. At the same time, encouraging entrepreneurship and empowering women to become not only wage-earners, but also jobs creators, is one of the most impactful steps we can take in addressing some of the disparities we see today.
Join our next free webinar on 24 November on Zoom and learn about initiatives that support the skilling process for women in business.  We will be presenting three good practices for skills development:
DITA

 

– Innovative platform for supporting your digital transformation, presented by Loredana Flego, NeroSuBianco
TalentA - education and support programme for women farmers, presented by Margit Batthyány-Schmidt, Union of Hungarian Women
National Platform for Women Entrepreneurship – connecting & empowering women entrepreneurs and stakeholders, presented by Emilija Andonova, Foundation for Management and Industrial Research.
Meet our speakers:
Loredana Flego / Project manager at NeroSuBianco
Loredana works as project manager for the Italian R&D focused consulting company NeroSuBianco that is active in coaching, supporting and training small and medium sized enterprises in the field of smart industry and circular economy. In her background she enjoyed to contribute to women's empowerment by leading a business association supporting mainly the women in start-up launching and in professional development both in her country and in socially and economically disadvantaged international areas; she has been herself entrepreneur in the tourism industry for many years.
Margo  Batthyány-Schmidt, president of the Union of Hungarian Women
Margo is the founder and president of the Hungarian Women's Union Association, and a member of several international organizations, where she carries out professional and advocacy activities in order to help Carpathian-Hungarian organizations and businesses, mainly those with a female and agricultural focus. The Union of Hungarian Women is an NGO established in 2013 and focused primarily on women living in the countryside.  It aims to be a bridge between women and decision-makers with the aim that economic, social, employment, educational, environmental, health preservation and consumer protection decisions will be taken for the benefit of women and families, and that those decisions support innovation.
Emilija Andonova, Project manager at Foundation for Management and Industrial Research
Emilija is one of the key programme coordinators within the Foundation for Management and industrial research, responsible for managing the economic development department, with background in designing business and innovation support services. Part of several CSO platforms/alliances/networks, joint activities with academia, including different working and thematic groups for women entrepreneurship development at national, European and global levels. SME Chair for Vardar region under G100 initiative and member of the National Platform for Women Entrepreneurship.