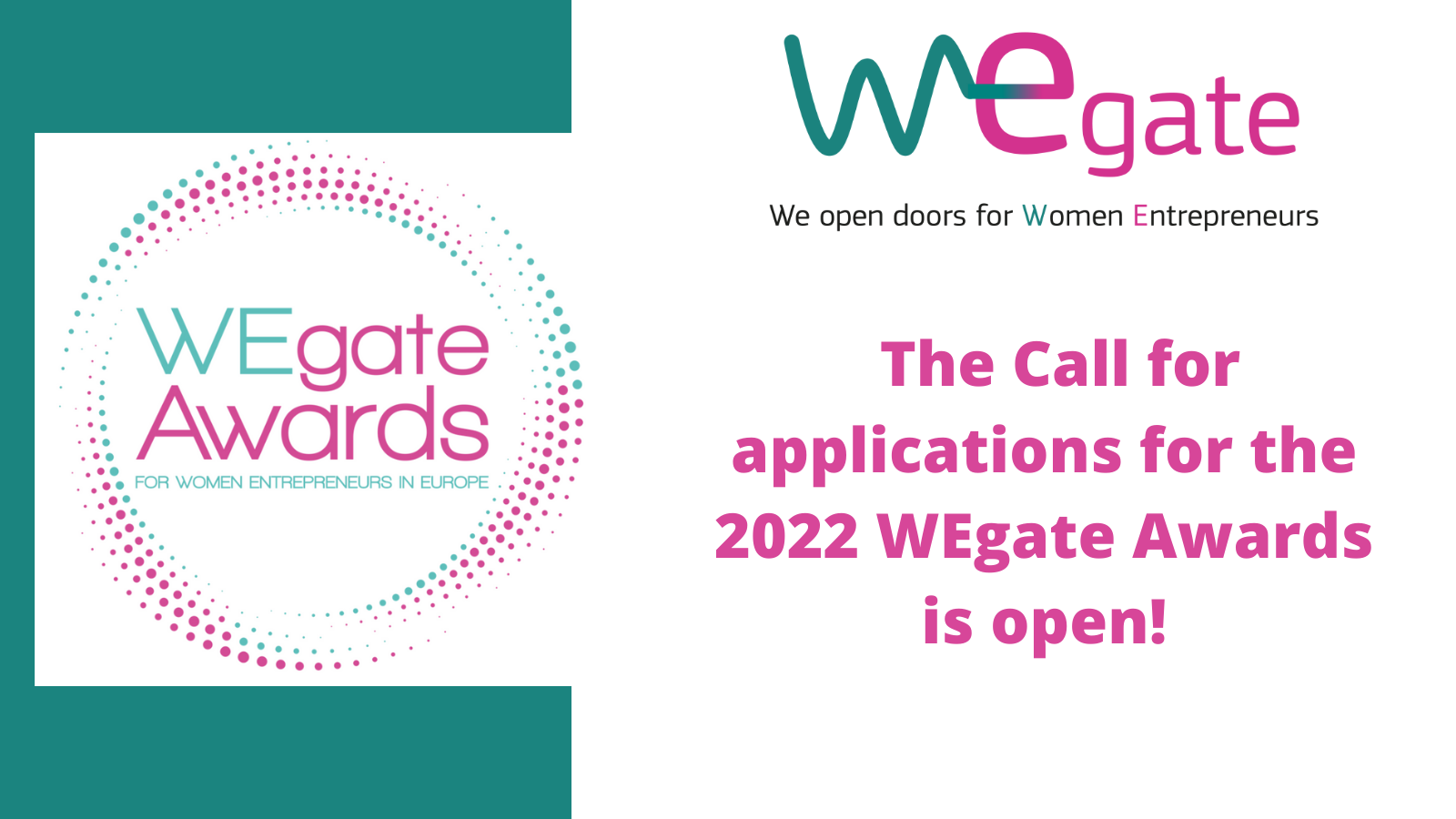 Publish Date:
19 May, 2022
WEgate is happy to announce the launch of the call for applications for the 2022 WEgate Awards which will be open until the 4th of September 2022.
The WEgate Awards for Women Entrepreneurs in Europe celebrate the entrepreneurial spirit of women across Europe. They recognize women who distinguish themselves as business leaders, through passion and creativity in their ventures, contribution to advancing the status of other women in their entrepreneurial journey or through a greater social impact on their businesses.
The second edition of the WEgate awards will continue to recognise and celebrate inspiring women entrepreneurs of all backgrounds!
The different WEgate Award categories celebrate the diversity of women's contributions to the economy and the society:
WEgate Nova Award for Women Entrepreneurs in Europe

: awarded to a WE running a newly established business (maximum three years) demonstrating outstanding qualities in setting up and growing a business with strong socio-economic potential.
WEgate Magna Award for Women Entrepreneurs in Europe

: awarded to a WE running an established business able to demonstrate the successful scale of a business with an innovative socio-economic or environmental approach.
 

WEgate Impulse Award for Women Entrepreneurs in Europe

: awarded to a WE acting as a champion enhancing the status of Women Entrepreneurs and/or leading an organization running initiatives or providing services that encourage and support other WE in her community
 How to submit your application?
We want to encourage the participation of women entrepreneurs that inspire through the diversity of their stories. Don't think your business is too small or with too little impact, as every contribution could help others thrive! Be the example you want to follow!
To apply send the following documents directly by email at the email address info@wegate.eu before the 4th of September 2022 at 17.00 CET:
Below you will find further information to support the submission of the applications:
Read more about the 2021 edition of the  WEgate awards here: https://wegate.eu/news-events/news/winners-2021-wegate-awards 
The WEgate Awards are an initiative of the European Gateway for Women's Entrepreneurship - WEgate - an e-platform launched by the European Commission through the COSME programme, to accompany the growing and diverse network of stakeholders engaged in supporting women entrepreneurs across Europe.