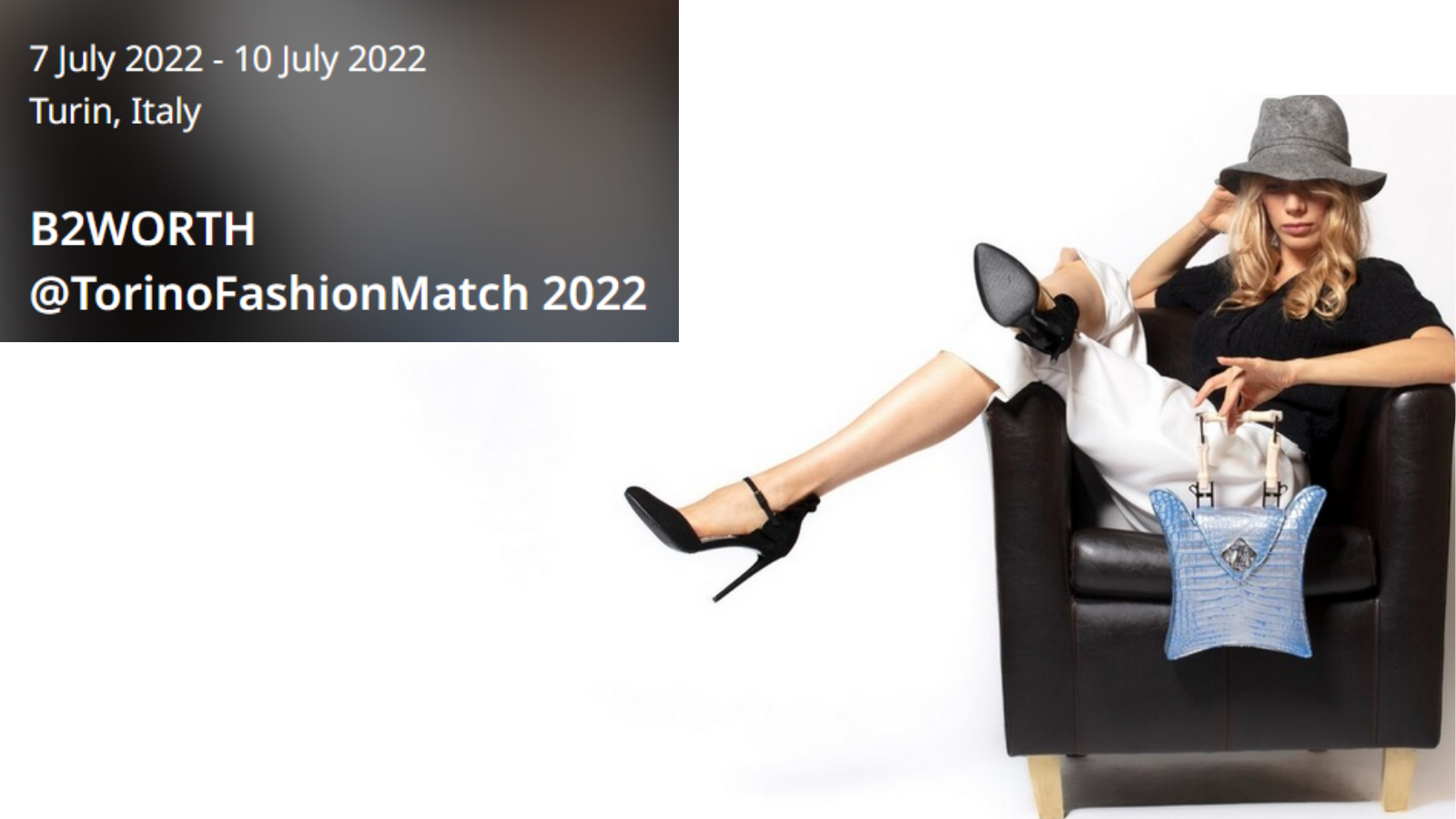 Publish Date:
23 May, 2022
B2WORTH@ TorinoFashionMatch 2022
Textile|Fashion|Design

& Creative Industries

sectors
7|8|9 July 2022
Mercato Centrale Torino (Turin, IT)
Register here by the 3rd July 2022: https://b2worth-torinofashionmatch-2022.b2match.io/
We are pleased to announce that you can register for the new edition of EEN matchmaking event B2WORTH@Torino Fashion Match 2022 that Unioncamere Piemonte, in collaboration with the Turin Chamber of Commerce, as partners of the Enterprise Europe Network, will organize on the  7|8|9 July 2022!
The b2b event, free of charge,  will be hybrid, as follows: 
 Check the detailed Programme here: https://b2worth-torinofashionmatch-2022.b2match.io/page-811 
NEWS 2022: 
This Year the b2b will involve the WORTH project! Companies attending the b2b can scout international partners to apply for the EU call WORTH II, addressed to the design sector and CREATIVE industries and get ready for the upcoming call, in autumn 2022! The project manager of the project will present the new Call during the TALKs session.
The event is addressed to: 
Fashion Designers| Start ups| Innovative brands

SMEs: Textile and accessories manufacturing companies

Retailers |distributors| sales agents  | Fashion stores

E-commerce Platforms

PR Agency| Marketing-Business Experts and Business development

Buyers|Commercial Agents with a real interest in finding new products

ICT service providers for the fashion industry

Investors focused on the fashion industry and Female entrepreneurship
Topics addressed:
Textile and Fashion (garments and fashion accessories/ Jewelry accessories )

Creative Industries and design (including topic under the WORTH programme)

ICT solutions related to the fashion industry

Retail |e-commerce

Investments in the fashion industry - female entrepreneurship

Sustainability and circular fashion
ADVANTAGES FOR YOUR CLIENTS: 
This edition will be full of activities and inspirational experiences and sides events where companies and fashion designers will get:
International visibility if you are interested in performing with your collection in 1 show at Torino Fashion Week 2022 

Take advantage of and get involved in the TFW e-commerce business platform Baiabasa 

Dedicated promotion of success stories/company profiles within EEN channels and international networks from TFW
Business networking opportunities with the b2b b2WORTH@Torino Fashion Match 2022 to find commercial partnerships and new partners interested in the WORTH partnerships project

Be inspired by the international 

TALKS organized during the b2b days

Fabulous

 experiences with specific side events  (Dedicated networking parties) where companies will get the chance to meet interesting experts and international guests.
TORINO FASHION WEEK  2022- TECH FASHION WORLD
The b2b event will be organized during the 7° edition of the Torino Fashion Week - Tech Fashion World 2022. After 2 years of digital editions, 2022 will be realized physically again!
The international format of Seasonless shows addressed to emerging fashion designers and innovative brands and manufacturing companies for the textile and fashion industry will take place in Turin (Italy) from the 6th till the 14th of July 2022, in the exclusive location at  Villa Sassi.
We remind you that participation in the Torino Fashion Week is subject to a fee for companies who wish to perform. In case of any interest, you can send us your EOI, or you can directly contact TMODA srl: timoda@outlook.it
Download the Full Programme of the Torino Fashion Week: https://b2worth-torinofashionmatch-2022.b2match.io/page-1401