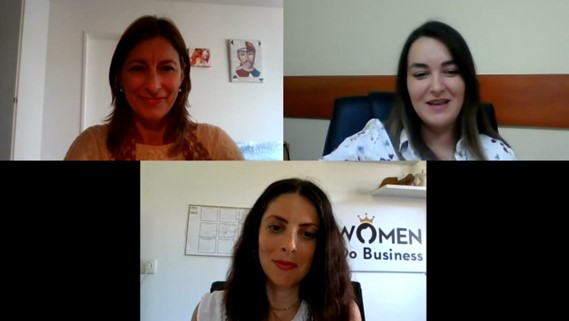 Publish Date:
22 June, 2022
Peer learning is a powerful tool for strengthening practice, coordination, collaboration and culture of learning within the community. In WEgate, we support this process by surfacing good practices of our community members. Therefore, on June 2nd, the WEgate team held a webinar ''Helping women entrepreneurs unleash their potential!'', with inspirational and motivational speakers, selflessly sharing their good practices, giving an opportunity to replicate or join an existing, already working practice.
The key to growing the number of women entrepreneurs in the world is to make them known and share their success stories with others. Role models are vital within the entrepreneurial world—they serve as powerful reminders of what has already been accomplished and what has yet to be done. Through hearing these inspirational stories of success, women are more likely to feel more equipped to go after their goals and pursue their entrepreneurial dreams. The power of connecting with other like-minded individuals should not be underestimated, and mentorship should be the goal in any industry to ensure women are receiving as many resources as possible.
Supporting women entrepreneurs helps attract and retain new talent which enables market innovation and growth. Economic empowerment of women can create conditions for a family to be poverty-free, to live in a sustainable way, and, ultimately, for the prosperity of a whole nation. The more jobs there are, the more you grow the economy because you are making productive use of your human capital, and that productive use is pouring back into the country and helping to grow its GDP.  What we do locally, could be easily replicated in other regions, by sharing the know-how.
The webinar introduced two amazing women, who stand behind successful organizations in women's entrepreneurship. The first panel primarily was introduced by Patricia Martinez Montesinos, Board Member, Co-Founder and President of FE+MALE think thank, based in Zurich, Switzerland, dedicated to research and data analysis, in an alternative approach, toward stimulating female entrepreneurship. They bring data alive, analyzing data and transforming research outcomes with the pure aim of having tangible outcomes that can apply to real-life solutions and increasing participation of females in entrepreneurship by tangible outcomes. They play with data and detect the research phenomenon, by using a variety of instruments and consider male involvement in supporting female entrepreneurship highly important, as females and males together can reach their goals and learn from each other, as they bring different things to the table.
Followed by Eri Pavlaki, Co-founder and CEO of Women do business, which promotes women's entrepreneurship and elimination of stereotypes, aiming at inspiring and motivating women to start their own businesses. Considering that the solution for increasing women in business is empowerment, they introduce a modern and holistic approach based on four pillars: empowerment, education, mentoring guidance and networking. As one of the "Top 100 women in social enterprise" they represent the interesting concept of working locally but having a much wider reach, guided by their motto, that "every woman wants, can and deserves to have her own business". With very ambitious plans for the future, creating a friendly and supportive environment for women entrepreneurs, they will continue to act as one of the main stakeholders for women's entrepreneurship. 
If you missed the webinar and would like to watch it, you can find the recording below: