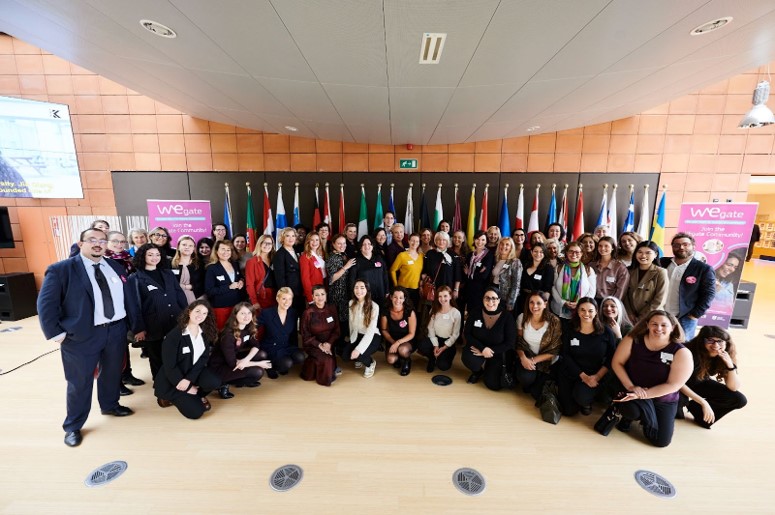 Publish Date:
09 November, 2022
Women entrepreneurs, policymakers and stakeholders from business and investment ecosystems met in Brussels on the 17th of October 2022, at the third annual WEgate Summit #WEGetFinance: Invest in and with Women Entrepreneurs in Europe. The ambition of the Summit was to discuss the challenges and opportunities in creating an enabling ecosystem to generate higher levels of investment in women-driven companies.
The scene for the discussion was set by Christa Schweng (President of the European Economic and Social Committee), who highlighted the importance of supporting female entrepreneurship as a strategic move towards an innovative and inclusive European business ecosystem. She stated, "Fostering female entrepreneurship is not just a question of fairness. Businesses with women in decision-making positions are proven to have better governance styles which encourage diversity and innovative thinking."
This point was echoed by Hubert Gambs (Deputy Director-General in the Directorate-General for the Internal Market, Industry, Entrepreneurship and Small and Medium-sized Enterprises of the European Commission), who emphasized that the need to give women entrepreneurs access to opportunities to thrive is a focal point of the Gender Equality Strategy 2020-2025 put forward by the European Commission. He highlighted that there are three key areas of action in the strategy: (1) awareness raising, mentoring and coaching; (2) improved access to finance by stimulating gender smart finance in EU-run investment instruments, such as InvestEU; and (3) increased efforts to measure female entrepreneurs' activities and their drivers and barriers to achieve better evidence-based policies on women entrepreneurship.
It was a positive opening to the Summit to have the representatives of the EU institutions reaffirming their commitment to closing the gender gap in business in the policy-making process. It also set the platform for the other key business ecosystem players to share their experiences and thoughts regarding improving women entrepreneurs' access to finance and driving economic growth.  
The perspectives of women entrepreneurs themselves were discussed during the session #WEdebate – Women Entrepreneurs' take on finance: how to improve access to finance for women-led businesses? Thomas Cooney (Professor of Entrepreneurship at the Technological University Dublin) and author of the yearly report WEbarometer measuring the business sentiments of women entrepreneurs across Europe, was joined by Veronique Willems (Secretary General at SMEunited) and Jacqueline Winstanley (Founder & CEO Universal Inclusion & The Inclusive Entrepreneur). The discussion focused on the preliminary findings of the WEbarometer 2022. The key takeaways are that funding programs must engage women when being developed to ensure they can fully benefit from these opportunities. There is a critical need to develop a culture that offers girls and women the opportunity to have relevant life experiences and build confidence in their entrepreneurial capacities. A lack of self-confidence remains one of the principal reasons women entrepreneurs do not start a business. It was suggested that the perceived lack of knowledge and skills as a barrier to starting an entrepreneurial venture could only be overcome by experience, "learning by doing" and "learning from failure", and not being afraid to seek support from the programs and initiatives put in place to help entrepreneurs.
The second session provided financiers with the opportunity to discuss their own barriers and opportunities relative to promoting women entrepreneurship during the panel discussion #WEAct – Bridging the finance gap: the financiers' perspective moderated by Jenny Tooth (Executive Chair UK Business Angels Association). She was joined by  Claire Munck (Chief Executive Officer at BeAngels), Inez Murray (Chief Executive Officer at Financial Alliance for Women), and Anna Amati (Venture Capital Partner at Eureka Ventures and Founder of Angels4Women). The discussion provided new insights and creative ideas from some of the top female financiers in the fields of angel investing, venture capital, and banking regarding the finance gap that exists between male and female entrepreneurs. The speakers offered recommendations regarding what can be done at the local, state, and European levels to increase funding for female entrepreneurs. It was identified that women pitch their projects differently and that they have different values and emphases. For example, it was suggested that women are more motivated by the impact that they can make with their venture rather than by financial gains. The panel accentuated the many advantages of encouraging female entrepreneurship and how providing appropriate forms of financial support can benefit the entrepreneurial ecosystem more broadly.
The last panel, #WEImpact – Breaking the gender bias: gender smart policies for Women Entrepreneurs, presented the recommendations of the Policy Group of the WEgate Community Council, which placed a strong emphasis on the need for better policy frameworks, capacity-building programmes and access to capital. The conversation included Lesia Radelicki (Member of Cabinet of the EU Commissioner for Equality) and Helena Dalli (European Commissioner for Equality), who shared news about new EC initiatives that ensure economic growth, employment, and social policies will go hand-in-hand. Furthermore, these initiatives also support women seeking to achieve economic independence through entrepreneurship and self-employment. The ensuing debate was moderated by Gabriela Kostovska Bogoeska (Executive Director of the Foundation for Management and Industrial Research, North Macedonia), and she was joined by a group of representatives of business support organizations or initiatives across Europe: Cheryl Miller Van Dÿck (Co-head of EU Delegation, G20 Women20 and Director of the Digital Leadership Institute), Stella Kasdagli (Co-founder of Women On Top), Sanja Popovic Pantic (Chair of Thematic Group Women Entrepreneurship at the Enterprise Europe Network and President at the Association of Businesswomen in Serbia) and Sophie Claessens (Director EU Public Policy at Amazon Europe and member of European Commission VAT Expert Group). The discussion highlighted the importance of collaborating with the entire business ecosystem to be active in representing the interest of women entrepreneurs and finding the most appropriate solutions to tackle the challenges they meet on this journey. The following areas of action were identified by the expert groups as key for the success of women entrepreneurs: financial literacy, finding systemic solutions that are cross-cutting at the European level to tackle systemic gender biases, capacity-building and long-term support (including financial support) for business support organizations, and programs working with female entrepreneurs on the ground.
The WEgate Summit concluded with a celebration of the entrepreneurial spirit of women across Europe during the WEgate Awards Ceremony. The WEgate Awards recognize women who distinguish themselves as business leaders through passion and creativity in their ventures, contributing to advancing other women's status in their entrepreneurial journey or through a more significant social impact on their businesses. The Winners of the WEgate Awards were awarded by Birgit Weidel (Head of Department at EISMEA for Innovation Ecosystems, SMP/Entrepreneurship and Consumers). The following were the winners announced at the Summit:
- The winner of the WEgate Nova Award was Laila Quere, with her company Alphaken Medical for her outstanding skills in developing an innovative business driven by her passion for doing good for people and advancing medical research in curing cancer.
- The winner of the WEgate Magna Award was Cristina Gutierrez Lestón, founder of La Granja Ability Training Center, for her creative and innovative teaching methodology that fosters her own emotional intelligence as a tool for tackling challenges and a key skill for the future.
- The winner of the WEgate Impulse Award was Mirlinda Kusari Purrini from the Women's Business Association SHE-ERA for being an inspiration in the community of women entrepreneurs in her country and abroad, reaching impressive and tangible results in her career spanning over 20 years.
Eva Merloni (WEgate Project Manager) wrapped up the 2022 edition of the WEgate Summit, inviting all participants and partners to continue their work in creating a better community for women entrepreneurs in Europe and beyond, and be their voices throughout the ecosystem!
We want to thank all partners who made it possible for us to meet in person this year for a day of inspiring stories, innovative ideas, networking and community-building!
Discover the Highlights through our dedicated video:
Watch the Interview with Participants: